Gateway Academy Whitecourt celebrates graduates and star students!
Posted on Jun 22, 2017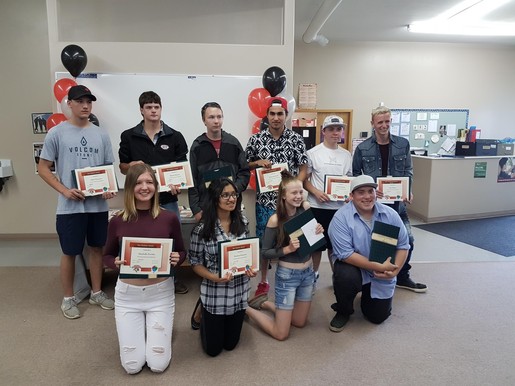 Gateway Academy Whitecourt proudly hosted a full house today at their Annual Awards ceremony in celebration of student achievement. 
"The ceremony gives us the opportunity to recognize our students and graduates and their hard work, perseverance and dedication,"  Teacher Coordinator, Sarah Van De Kerckhove.
Gateway Academy Whitecourt, formerly Hilltop Storefront, offers students the opportunity to earn a high school education outside a regular school setting. Students can attend and take courses offered on-site with a coordinating teacher or online through the Alberta Distance Learning Centre. NGPS offers alternative programming through Gateway Academies in Onoway, Whitecourt, Fox Creek and Valleyview.
Students can choose to attend a Gateway Academy for many different reasons:
independent students who work full time and still want to earn a high school diploma
young parents who prefer the flexibility of alternative programming
less comfortable in traditional school settings
enjoy the independence of learning at their own pace
enjoy the smaller learning environment
flexibility of course load
The Star Student Awards recognize students who have earned a significant number of credits through course work and Work Experience. Congratulations:
Dylan Desousa
Chase Fediuk
Tristan Keshane 
Martin Klassen
Tina Klassen 
Kieran Matthews
Jace Mattson
Keisha Page
Kden Plummer
Connor Preston Carlson 
Malena Sanderson
Kareena Summan-
Maybelle Zavisha 
Jace Mattson and Chase Fediuk both took home Most Improved Student Awards. 
Jace successfully completed his course work and earned credits through Work Experience to graduate. He plans to attend NAIT in the fall.
Chase also earned credits through Work Experience, course work and options. He is on his way to earning his diploma while working full time. His Work Experience Supervisor praised his work ethic sharing that he is one of the best workers that she has had at her company. 
The Outstanding Senior Student Award recognizes a student who demonstrates a high level of achievement, dedication, work ethic and perseverance to complete courses in a timely manner. Martin Klassen was awarded the honour for his determination, positive attitude and helpful spirit. 
The Outstanding Junior High Student Award went to Jaidyn Bourdages. Jaidyn completed Grade 9 and is working towards Grade 10 courses while waiting to write her PATS. 
The Most Dedicated Student Award recognizes hard work and determination. Alex Murry and Sean Theede were both recipients. These students attended every day and worked hard to complete Language Arts and Math in one semester so that they could transition back to Hilltop Jr/Sr High in Grade 10. 
The 2017 Graduates
Earning a high school diploma takes determination, hard work and motivation. Congratulations! We are honoured to have been a part of your journey:
Blake Durocher
Chase Fediuk
Bailey Hartney
Devlin Hilliard
Jemima Koudia
Zachary Lambert
Kieran Matthews
Jace Mattson
Malena Sanderson