Grasmere students semi-finalists in Samsung's Solve for Tomorrow Challenge!
Posted on May 30, 2017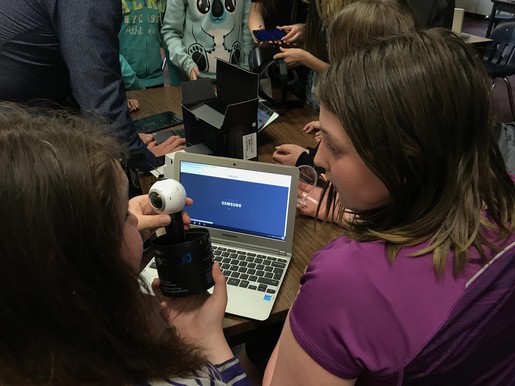 Grasmere Grade 6 students are one of 150 regional finalists in Canada in Samsung Electronic's Solve for Tomorrow Challenge!
The challenge asks Canadian students from Grades 6 through 12 to identify issues in their local communities and develop solutions using science, technology, engineering and mathematics (STEM).
Grasmere students are looking at the issue of the blue/green algae bacteria that develops in Lac Ste Anne each year to see if anything can be done to lessen the amount of bacteria and its impact on the community. Many of the students use the lake in the summer but there are often warnings and swimming is prohibited because of the bacteria.
As semi-finalists the the class received a Samsung technology package which includes a Samsung Gear VR, Galaxy tablet, an S7 phone and a Samsung Gear360 camera to assist them in completing their project.
The Samsung Solve for Tomorrow Challenge intends to inspire STEM interest and learning opportunities in Canadian classrooms in science, technology, engineering and math.
Moving into the next phase of the Challenge, students are working on a three minute video documenting the implementation of their community solution. More on the Challenge http://bit.ly/2sjfYYv!
Four regional winners will be chosen in June. Each winning school will receive $20,000 from Samsung!