Learning about safety at OES!
Posted on Sep 13, 2016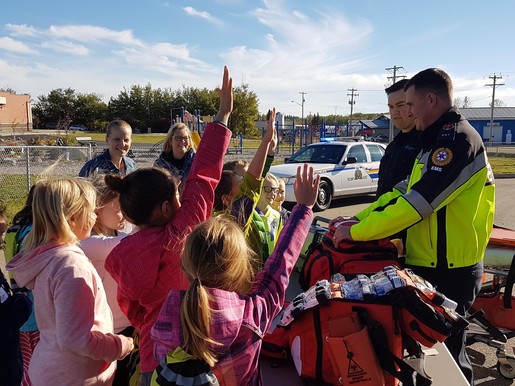 Grade 3 students at Onoway Elementary School had a blast yesterday learning all about safety at Traffic Safety Day. Alberta Transportation and partners like the RCMP, the Alberta Motor Association and Alberta Health Services EMS were on hand to bring awareness to students through several fun safety stations (check out the pics!). 
From wearing the proper helmut to pedestrian and ATV safety, stations aimed to teach or remind students of the hazards they need to be aware of and what they can do to be safe.
Traffic Safety Day used to be held at one location, usually the Alberta Legislature, but this year they are going out to schools throughout the province to spread the word. Dale Friedel, Regional Traffic Safety Consultant with the Alberta Office of Traffic Safety shared:
With kids going back to school, Traffic Safety Day aims to increase safety awareness, everything from pedestrian and school bus safety to congestion around schools and how to drive around a school bus.
The Yield program was on hand with their side by side to teach kids about ATV safety, from wearing the proper helmut to being the right size to ride different types of equipment. 
The AMA Way to Be program engaged kids in some fun activities around pedestrian safety and congestion around schools, covering such topics as not crossing between the buses or other vehicles.
The RCMP Commercial Vehicle Enforcement Unit talked about school bus safety and how students need to conduct themselves safely when riding the school bus. They also gave students the opportunity to sit in the back of their RCMP truck!
All State Insurance led students through drills focused on safely navigating a crosswalk and the different kinds of traffic signs they will see, and what they mean.
Alberta Health Services EMS Responders were another popular station where students had the chance to have an up close and personal look at the inside of an ambulance and their equipment. Volunteers had the chance to try out the stretcher!
The presentation wrapped with a group lunch provided by Burger Baron, Academy Welding and Onoway Bigway!