MHS Assistant Principal awarded Sovereign Medal for Volunteers
Posted on Oct 27, 2017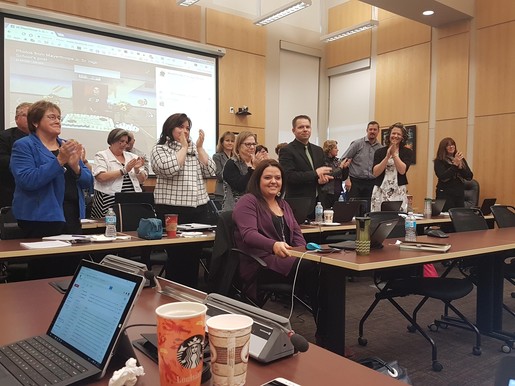 Last week, our very own Beth Jager, Assistant Principal at Mayerthorpe Jr/Sr High School (MHS), was presented with the Lieutenant Governor's Sovereign Medal for Volunteers, for her work as a volunteer, coach and athletic director.
The Sovereign's Medal for Volunteers recognizes the exceptional volunteer achievements of Canadians from across the country in a wide range of fields. This national honour is bestowed on Canadians who "go above and beyond in their work to build stronger, healthier and more vibrant communities for the betterment of all."
Ms. Jager was recognized for many volunteer contributions to the community of Mayerthorpe including her work as a local 4H Assistant General Leader, an Athletic Director at MHS, a Coach, a Triple A baseball volunteer and for the countless hours she spends helping students with their academic pursuits.
Ms. Jager was congratulated by her colleagues at NGPS' Administrator's Meeting this past Wednesday where NGPS Deputy Superintendent Michelle Brennick acknowledged Ms. Jager's character and commitment:
"Ms. Jager's commitment to her community and her care for her family, her farm, her students, her profession and her division are to be commended. What has been recognized by this national honour, is the spirit of a woman who has given her heart to the betterment of others."
Congratulations Ms. Jager!