Nolan Andriuk named Assistant Principal of Elmer Elson Elementary School
Posted on May 8, 2017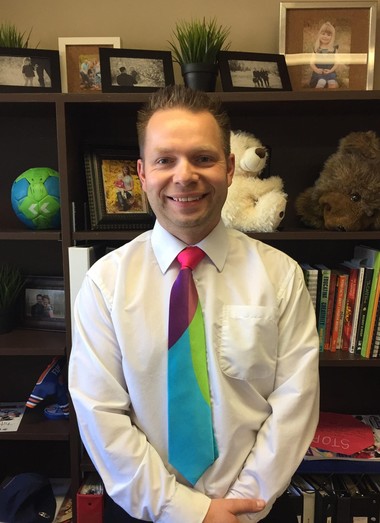 We are pleased to share that Mr. Nolan Andriuk has accepted the Assistant Principal position at Elmer Elson Elementary School effective September 2017.
"Nolan is an engaged educator who recognizes the varied needs of students and the importance of relationships and connections within the school and greater community, attributes which will serve the students and staff of Elmer Elson well. We look forward to his continued contributions in Mayerthorpe this upcoming year."

- Kevin Andrea, Superintendent of Schools
Nolan Andriuk began his career with NGPS in 2007. As a teacher he demonstrates a comprehensive understanding of project based learning, inclusive education and educational technology, and a commitment to leading, coaching and facilitating extra and co-curricular pursuits for students.
Mr. Andriuk accepted the position of Assistant Principal and Inclusive Education Facilitator at Pat Hardy Primary School in Whitecourt in 2014, a role that had him working collaboratively and effectively with the Pat Hardy team in fostering leadership and initiating the facilitation of the Collaborative Response Model at the school.
Andriuk shares: " I am excited to re-join the close knit staff and students at Elmer Elson Elementary School. I am fortunate to return to a supportive community where I have had many wonderful years teaching, coaching, and watching students become leaders within it."
Mr. Andriuk has completed the NGPS Leadership Development program and holds a Bachelor of Physical Education degree and a Bachelor of Education degree from the University of Alberta. He completed a Master's degree in Educational Leadership from Memorial University in 2016.