Onoway alumni shares poetry with Drama students at OJSH!
Posted on Jun 9, 2017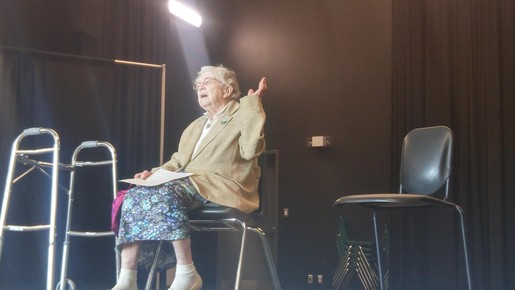 Onoway Drama students were in for a treat this past Thursday with a visit from Onoway alum, Ruth Schultz. Ms. Schultz attended Onoway School in 1929. 
Ninety-five years young and a long-time local resident of Onoway, Ms. Schultz impressed students with her recall, enunciation and stage presence! She recited poetry and literature that she had learned as a young girl going to school in Onoway, as well as her own poetry, some of it from World War 1.
Of special note, Max Westerlund, a grade 12 student who will be graduating later this month, was surprised to see his Great Grandmother on stage! Max was in his Physics class when he was called out of class to the office for the surprise. After being directed to the stage area, he was completely shocked and pleasantly surprised to see his great-grandmother up on stage giving a recitation to a class. He gladly joined her on stage for the remainder of her presentation. Max is no stranger to the stage: he recently acted in OJSH's dinner theatre production of Rocky of the Rainforest.
Mrs. Schultz's recitation was testament to the power of literature in education.