Student driven project-based learning will see $150,000 invested in Whitecourt community
Posted on Dec 13, 2016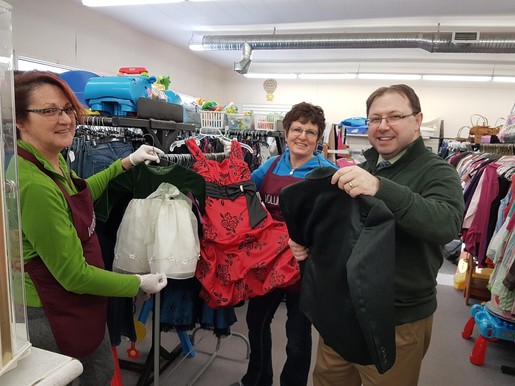 Repeat Boutique gets an NGPS makeover by Hilltop students, Merit Contractors and the Friends of Whitecourt
Hilltop Jr/Sr students will be contributing to the community of Whitecourt in a meaningful way beginning this January as part of an innovative learning experience between Northern Gateway Public Schools, Merit Contractors and the Friends of Whitecourt Society.  
Merit Contractors provides benefits and training to meet the needs of the construction industry. The association demonstrates its commitment to training through a comprehensive education program, promoting and providing access to learning opportunities in the trades for students. Seeing a unique opportunity to utilize Merit educational grant dollars to provide students with project-based learning while also contributing to needs in their communities and fostering an attitude of stewardship, NGPS submitted a proposal to Merit Contractors identifying a number of unique learning opportunities in the Town of Whitecourt.
"This project gives students a chance to experiment, expand their skills, jumpstart a potential future vocation and contribute to their community," explains NGPS Superintendent Kevin Andrea. "It's an excellent opportunity for NGPS students and a result of the collective work of many. We are fortunate and thankful to have received Merit's grant for this proposal."
Whitecourt's own Repeat Boutique is 100% volunteer run by the Friends of Whitecourt Society and offers excellent deals on pre-loved clothing and household items. Over its 50 year history, the boutique has donated considerable materials, and over 3 million dollars, to the hospital and to health and wellness initiatives in Whitecourt. Like many of our community thrift shops, the Repeat Boutique is in need of a little tender loving care. These vital community shops are often located in low-rent buildings that may not be well maintained and where funds are used toward community supports versus building improvements.
The Repeat Boutique makeover will include freshening up the interior and exterior with paint, maintenance, signage, shelving, organization and displays to improve functionality and enhance the shopping experience. Marketing and special projects will round out the experience. An experience that NGPS Dual Credit lead David Quick says engages and prepares students in an authentic way because students will be meeting the needs of a real client. Quick shares that "because of the opportunity Merit has provided, we've discovered that Repeat Boutique also has some other needs, for example, they don't have a website. We have students who are very capable of designing and maintaining a website and producing handcrafted signage. Our students have access to high-quality printing equipment and graphics software to produce advertising to complement the new space."
"Students in the Merit project will have the opportunity to explore different career paths with an actual client, while in high school. While construction will be the key focus, the project has many elements that will appeal to a wide range of students including marketing, design, merchandising and customer service. Merit Contractors, NGPS and the Friends of Whitecourt have embarked on a true community partnership allowing students to be key leads in community service in Whitecourt."

- Debbie Vance, NGPS Community Partnerships and Dual Credit
Mural coordinated by students
The transformation will continue to the exterior with a mural. Students will research town bylaws and restrictions and work with an artist to transform one of the shop's exterior walls.
Mentorship
Merit Contractors will mentor students throughout the Repeat Boutique project as students work to develop the following skills:
learning to work as a team
communication and consultation (with store and construction volunteers)
research, planning and design
building/construction
painting
simple repairs to clothing, small appliances and furniture 
marketing (developing promotional materials, including building a website, signs, etc.)
developing a commercial recycling system
customer service
building community partnerships to make the store sustainable 
Approximately 40 students in grades 10 through 12 will participate in different areas of the project from a design competition that will focus on what a remodeled store will look like and designing and building furnishings at the NGPS shop to onsite remodelling, painting and volunteering in the store.
Northern Gateway Public Schools' ultimate goal is a holistic approach to student success and well-being. Students imagine, explore, create and engage in lifelong learning as they develop the skills, attitudes, and knowledge to contribute to the welfare of themselves and others and to prepare them for their future.
Merit's Marvelous Makeover!