New Principal Announced for Percy Baxter!
Posted on Dec 7, 2017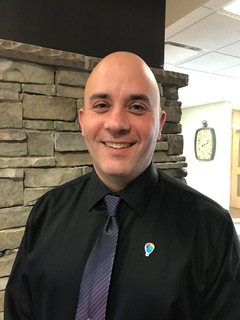 Northern Gateway Public Schools is pleased to announce that Mr. David Turcotte has accepted the position of Principal of Percy Baxter Middle School, effective January 2018.
The position became available following Principal Haugjord's announcement that she would be retiring at the end of December 2017.
Mr. Turcotte joined Northern Gateway Public Schools as an Assistant Principal at Percy Baxter Middle School in 2013. His enthusiasm for teaching, administrative experience and commitment to student engagement have served the Percy Baxter community well, encouraging trust and collaboration among colleagues, students and within the school community.
In his past experiences as both a Principal and Assistant Principal, David has worked extensively in the areas of professional development, school technology, Teacher Growth, Supervision & Evaluation, Student Discipline and the Division's Student Assessment Committee. He is also an active member of the school's many extracurricular teams and clubs.
NGPS Superintendent Kevin Andrea commented, "David's experience in and out of the classroom, as a teacher, coach, and administrator make him an ideal fit for Percy Baxter Middle School. We look forward to his contributions going forward."
Mr. Turcotte holds a Bachelor of Education degree from the University of Alberta and a Masters of Education in Multidisciplinary Leadership from the University of Northern British Columbia.
Mr. Turcotte is looking forward to his new role at Percy Baxter:
"I'm excited for the opportunity to continue working with the dynamic team at Percy Baxter in supporting the academic achievement and social well-being of the students and staff within the school, the community and the Division."