17 NGPS students graduate from HCA program!!
Posted on May 25, 2018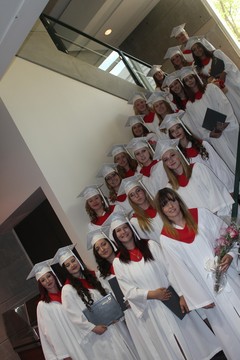 17 NGPS students ahead of the game with Health Care Aide (HCA) Diploma!
Congratulations goes out to all of our HCA Dual Credit graduates! Offered in concert with Norquest Community College, the Dual Credit Health Care Aide program allows students to earn high school credits and a post-secondary diploma at the same time. 
The 21 graduates of this year's program include two graduates from Fox Creek School, three graduates from Hilltop Jr/Sr High School, three graduates from Onoway Jr/Sr High School, nine graduates from Mayerthorpe Jr/Sr High School and four students from Grand Trunk High School in Evansburg. Of the 21 graduates, eleven are current Grade 12 students who will walk on stage a second time here shortly to accept their high school diplomas! Two students graduated from high school last year and eight students are currently in Grade 11.
Mayerthorpe Jr/Sr High School Assistant Principal Beth Jager commented:
The HCA program has been beneficial to students in a variety of ways. Throughout the year, the students have become more confident and expanded their knowledge of Health Care. The lab and clinical skills they have learned have helped them relate to people and show compassion and understanding. In addition to providing the students with a college certificate as a Health Care Aide, they have also earned 25 high school credits. Some of the students will be using this knowledge as a stepping stone to support their future career goals in health care. Other students have had the opportunity to earn skills and certification that will potentially provide them with employment in their home community and allow them to remain in that community. It is very exciting to be able to provide students with this opportunity and we look forward to continuing to work with NGPS and Norquest College in providing this program.