4807 53 Avenue,
Whitecourt AB T7S 1N2
Ph: 780.778.2136
Fax: 780.778.5150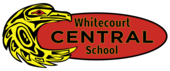 Beliefs
Belief Statements:
Every child can learn
Every child must have hope
Every child is a unique individual
Children learn at different rates and in different ways
Learning and development is a continuous process
Learning is an active process
Learning is an individual process
Students should be given the opportunity to experience challenge and success
Students learn best in a learning environment with their peers
Programs & Services
Central School Students are Eagles:

Excellence - Show excellence everyday, in every way
Accountable - accountability for your actions and consistent attendance
Give Respect - Treat everyone well
Learn well - School is your job
Enjoy school - Central is your second home
Safety - Everyone deserves to feel safe and be safe
Grades Taught
3-5
Principal
Welcome to the 2020-2021 school year!
I hope that this year is an exciting learning experience filled with fun, friendships and personal success. At Whitecourt Central School, our number one priority is our students - their learning, accomplishments and personal growth. Strive to do your best at all times. Always be respectful of yourself and others. Participate in school activities and special events as this helps to make school enjoyable.
Our staff is dedicated to helping students achieve their personal best and develop their leadership potential. Always remember that you are responsible for you and your choices.
I am looking forward to meeting you in the office to celebrate your accomplishments!
Yours in Education,
Mrs. T. McKeever Principal