$50K from RBC to support Off Campus programs!
Posted on Dec 6, 2019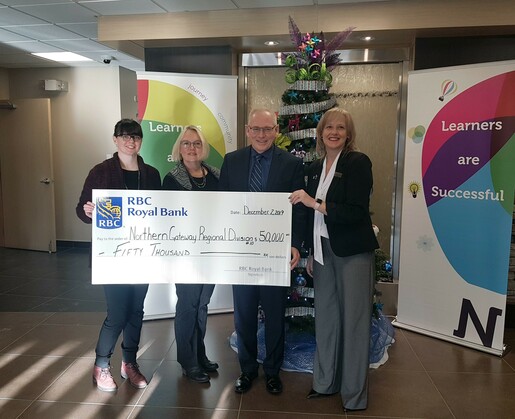 The substantial donation comes via the Royal Bank of Canada's Future Launch Community Challenge grant. The grant helps young Canadians prepare for the jobs of tomorrow through practical work experience, skills development opportunities, networking solutions and mental well-being supports and services.
"We are so pleased that junior and senior high school students can benefit through the RBC Future Launch Community Challenge grant," commented RBC Whitecourt Branch Manager Tammy Collins. "We believe in helping young people prepare for the opportunities and uncertainties of the future."
Northern Gateway Public Schools has invested in our students' futures with an increased emphasis on Off Campus and Dual Credit learning opportunities, offering students options for personalized learning and skill development, and connections to post-secondary and local industry.
NGPS Superintendent Kevin Andrea and Board Chair Linda Wigton accepted the cheque from RBC Whitecourt Branch Manager, Tammy Collins, this past Monday:
"We are fortunate to have a partner in RBC who shares in a vision of students who are competent, confident and prepared for the future," shared Andrea. "We need to be collaborative and creative with industry to move learning forward for students, and this grant goes a long way to support that learning."
Off Campus education refers to opportunities junior and senior high students have to explore and expand their career interests, skills and knowledge related to work through Work Experience, Registered Apprenticeships, and summer Boot Camp learning opportunities. Dual Credit programs provide the opportunity for high school students to take college or university courses, earning both high school and post-secondary credits for the same course.
With the support of RBC Future Launch, we will be able to enhance our current programs to better serve our students as they learn, grow, and create the business opportunities of tomorrow.
Thank you RBC!