Building capacity, understanding and support through Mental Health First Aid
Posted on Jun 4, 2019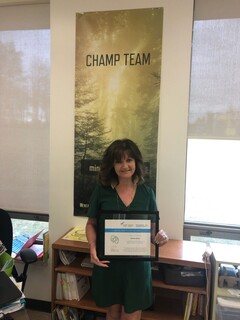 Supporting communities, encouraging learning, fostering awareness and building skills - CHAMP Team Coordinator earns Mental Health First Aid Instructor (MHFA) Certification!
Sandra Hardy is a key player when it comes to Mental Health Capacity Building in Northern Gateway schools. Ms. Hardy joined NGPS nineteen years ago and has been with the Mental Health Capacity Building Project  in Fox Creek for the past eleven years. During this time, Ms. Hardy has led the development of Fox Creek School's first ever Mental Health Capacity Building Project, named CHAMP. Since that time, the CHAMP Team has grown to include Success Coaches and numerous programs, initiatives, clubs and activities that foster mental health, wellness and awareness within the school community, and beyond. The CHAMP Team's reach has expanded over recent years to include work within the greater community of Fox Creek as well as to schools and community service agencies in Valleyview.
This year, a new chapter unfolds for Ms. Hardy with her certifcation as a Mental Health First Aid Instructor from the Mental Health Commission of Canada. 
"I am proud of our work as a division and within the CHAMP Team and excited for the opportunity to serve as a resource for not only our NGPS staff and students, but for our greater communities. As an instructor, I'm able to offer mental health first aid training to industry and businesses in our communities, supporting staff, parents and families with local, accessible tools and supports; and to be a part of a larger, global effort to build a collective awareness and understanding of mental health and wellness. Of course, all of which is done to build capacity and improve outcomes for students." 

- Sandra Hardy, CHAMP Coordinator - Fox Creek School; Mental Health First Aid Instructor
As a certified Mental Health First Aid Instructor, Ms. Hardy will facilitate training and information sessions for NGPS teachers, as well as for private industry who recognize the need for support within their organizations. Ms. Hardy has already provided sessions for Millar Western staff, the MD of Greenview service staff like the FCSS and for volunteers and employees in the oil and security sectors in Fox Creek.
Mental Health First Aid training helps to build capacity within our schools, communities and workplaces. In building capacity and understanding, we better recognize, empathize and serve individuals with mental health barriers.
Congratulations on your certification Ms. Hardy!