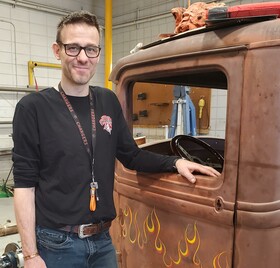 Mr. Marinus, a first year Mechanics teacher at Hilltop Jr/Sr High School, is recognized by his colleagues and students for his thoughtful and intentional planning and ability to engage and connect with students.
"Mr. Marinus is a natural educator and a respected member of the Hilltop team," shared NGPS Superintendent Kevin Bird. "Paul's passion for teaching, industry expertise, and ability to connect with students is exemplary. We are incredibly fortunate to have excellent first-year teachers like Mr. Marinus working with NGPS students."
A Red Seal Automotive Technician by trade, Mr. Marinus' own passion for learning led him back to the classroom. An active participant in NGPS' Beginning Teacher program, and Alberta's Bridge to Teacher Certification program, Mr. Marinus designs authentic lessons with real-world, hands-on learning that both engages and challenges students.
"As an industry expert, Mr. Marinus' knowledge of automotive industry standards and ability to design authentic lessons, provides students with invaluable learning. Paul has a remarkable ability to accommodate students to meet their individual learning needs. He differentiates, or scaffolds learning, to meet each student. He possesses a great sense of humour and takes a genuine interest in the lives of his students. This helps him create a safe and welcoming environment that students enthusiastically respond to.~ Principal Brent Northcott, Hilltop Jr/Sr High School
Edwin Parr Teacher Award
Each year the Alberta School Boards' Association (ASBA) honours six outstanding first-year teachers with the Edwin Parr Teacher Award. The Awards recognize excellent first year teachers across Alberta.
Edwin Parr was a teacher, education advocate and President of the Alberta School Trustees' Association (now ASBA) from 1956 to 1962. His long career in educational affairs led the Association to establish the Edwin Parr Teacher Award in his honour, and in honour of the profession he so deeply respected.