Farewell from Iceland!
Posted on Oct 15, 2018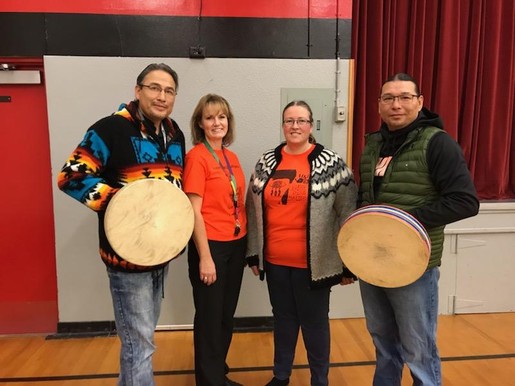 An experience to remember - Harry Gray welcomes Icelandic principal into the fold for growth and learning exchange!
It was an exciting week for Harry Gray staff and students who had the special privilege of hosting Principal Asta Flosadottir from Iceland!
Principal Asta, as she was called by students, joined the HGE community earlier this month as part of a short-term, international administrator exchange program. The program offers school leaders the opportunity to hone and grow their craft by working and experiencing education in a global context and as part of a community that is different than their own. HGE Principal Bonnie Countryman will stay with Principal Asta in Iceland this coming Spring.
Administrators gain insights and an understanding of new cultures, and reflect on their approach and practice, as an individual, in the larger context of their school community and in comparison to their host community.
Principal Asta stayed with Principal Countryman during her time in Valleyview, job-shadowing Ms. Countryman for her professional principal duties during the day and joining her in the evenings for recreational time and learning in the Valleyview community. In addition to spending her days at the school connecting with students and staff and learning about more about Alberta educational policy and curriculum, Principal Asta attended the Division's annual Employee Recognition Evening and the monthly Administrators' Meeting in Whitecourt where she met and talked with NGPS Superintendent of Schools Kevin Andrea, Deputy Superintendent Michelle Brennick, Assistant Superintendent Leslee Jodry and division leadership and principals from Alberta Beach to Valleyview. She learned about Indigenous culture, participated in Orange Shirt Day at HGE, met parliamentary leaders who visited Hillside Jr/Sr High School and did we mention she was taped to a wall?  
The experience has been enriching for everyone at Harry Gray and certainly for Principals Countryman and Flosadottir!