Fox Creek student wins Governor General's Academic Medal!
Posted on Sep 25, 2019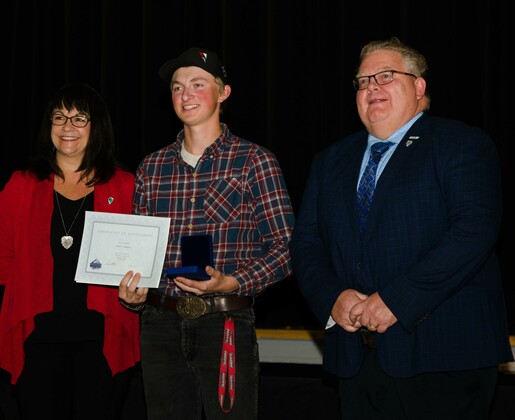 Fox Creek students in Grades 7 through 12 were celebrated for their achievements during the 2018-19 school year at the school's annual Awards Night on September 20. Over $33,000 worth of awards and scholarships were presented recognizing excellence in academics, citizenship, athletics and leadership.
Grade 12 student, Cody Larsen, was presented the Governor General's Academic Medal for his highest overall weighted average in all three of his high school years!
The medal is one of the most prestigious awards that students in Canadian schools can receive. Cody's overall average of 92.699 is impressive. He has also completed two dual credit college certificates while in high school. He is described by Fox Creek School teachers as a diligent and deserving student who can always be found working on or studying for his academic pursuits. Congratulations Cody!
NGPS Awards
Each year the Division recognizes one junior and one senior high student from each NGPS school who take part in extracurricular activities, demonstrate positive leadership qualities, show an interest and participate in school activities, are academically engaged in curricular studies and demonstrate a respectful manner towards others and the environment.
Sarah Norman awarded NGPS High School Award!
Sarah is a positive and contributing member of her school community. She is an active learner in the classroom who takes initiative and works hard. She is avery active in the community of Fox Creek participating in many service clubs as well as in the Horse Club. Everyone Sarah meets is treated with respect and dignity. Congratulations Sarah!
Jacob Scobey awarded NGPS Junior High School Award!
Jacob participates in many extracurricular events and attends all school functions. He manages to balance his academic requirements with his after school activities including hockey which he loves. Jacob spends many hours at the arena with his family and is always willing to help out when an extra pair of hands are needed. School staff see a "natural leader" in Jacob who always has a smile on his face for his peers and staff. Congratulations Jacob!
Special thanks goes out to the many businesses, organizations and individuals in Fox Creek who sponsor awards and scholarships for Fox Creek students!