Grasmere School welcomes new team member!
Posted on Nov 29, 2018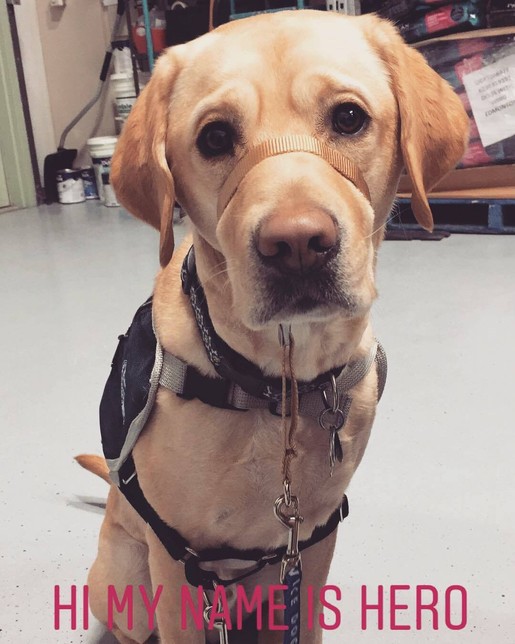 Meet Hero!
Hero is a highly trained facility dog, from the Dogs with Wings organization, who will help students with learning and behavioural difficulties and those who have high anxiety in a variety of situations, such as reading and communicating.
Grasmere School Principal, Shelley Wyman, shares that Hero also presents students with "an opportunity to learn about empathy, caring for others and caring for animals."
The school is very excited to welcome their newest member. Studies show that student engagement and comfort levels increase when students are paired with a furry companion. Facility dogs are trained for:
stress and anxiety reduction for children
companionship
relationship buiding
learning opportunities
canine-assisted education
canine-assisted intervention
Hero is NGPS' second facility dog from Dogs with Wings. Sage, a sweet black labrador retriever, joined the Pat Hardy Primary family in 2015! Facility dogs are raised and trained in a loving environment before moving to their permanent residence. Hero's primary handler will be Grade 5 teacher, Ms. Secord. Hero will spend the majority of his time in Ms. Secord's classroom, for now, while they get to know each other, but all students will be able to access, and get to know, Hero.
Dogs with Wings (DWW) is a non profit group that relies upon donations and sponsorship to support their program. They provide dogs to their clients, free of charge, however, the cost to breed, raise, train and place a single assistance dog into the home of a client takes approximately two years to complete and costs DWW $40,000 per dog. Sponsorship and support helps to offset the expenses of training an outstanding assistance dog. Dogs with Wings Assistance Dog Society (DWW) is a federally-registered charitable organization. 
We are very fortunate and proud to have Sage and Hero supporting NPGS students!