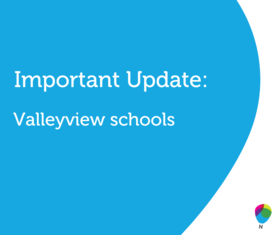 UPDATE, MAY 22, 2023
We have been cleared to return to school in Valleyview tomorrow, May 23. All Valleyview schools will be open and operating. We can't wait to see you all.

Unfortunately, there will be no school bus transportation available to or from Valleyview schools tomorrow. We understand everyone might not be able to make it in. We will let you know when transportation can resume.

Welcome home. As you settle back in, please don't hesitate to reach out to the school or the NGPS Wellness Team, if you need anything. 
_____
UPDATE, MAY 18, 2023 - 11:30 AM
The Town of Valleyview has announced the evacuation order has been lifted and that people can return to their homes as of noon today, Thursday, May 18. We are so happy for this good news for our Valleyview families. We continue to monitor the Alert Status and will announce school plans for after the long weekend, once we can confirm we are able to operate. 
______
UPDATE, MAY 15, 2023 - 2:15 PM
Valleyview continues to deal with wildfire conditions. An evacuation order has been expanded to the Town of Valleyview. All Valleyview schools, Northern Gateway Public schools and Holy Family schools in Valleyview, will be closed until the order is lifted.
We are monitoring the situation together with Holy Family, our communities, and responders, and will continue to share information via social media. Safety and strength to all those affected, and for all those who continue to protect our communities. Thank you, please stay safe.
Provincial updates on evacuations, assistance and other information can be accessed here: https://www.alberta.ca/index.aspx.
_______
May 14, 2023
Due to an evacuation alert, and wildfire and air quality conditions, all Valleyview schools, including Northern Gateway and Holy Family schools, will be closed on Monday, May 15. The Division will re-assess the situation for Tuesday.