Challenging the stigma of Mental Health with supports & solutions @ Hillside Jr/Sr High!
Posted on Oct 26, 2017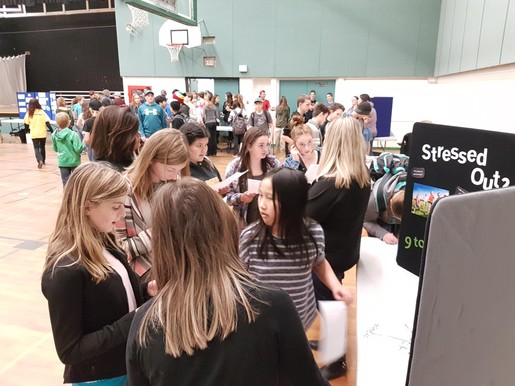 The message was one of self-care at Hillside Jr/Sr High in Valleyview this past Tuesday as students explored their mental health and well being alongside motivational speakers, community support services, Hillside staff and their peers.
The idea to host a Mental Health Day grew out of a desire of Hillside school staff to help students deal with social and mental health issues they experience like bullying, cyberbullying and self-harm. The community responded with enthusiasm prompting the school to extend the reach of the day to younger learners at Oscar Adolphson Primary (OAP) and Harry Gray Elementary (HGE). 
"As we discussed the needs of students and explored potential presenters, we realized we had an opportunity to reach all NGPS students in Valleyview, from our earliest learners at OAP to our junior and senior high school students," shared Hillside teacher and counselor Laurena Newman.
Three fantastic presenters were brought in to speak to all students about mental health and wellness and the myriad of social pressures and challenges that can impede our mental health and negatively impact our self-esteem and self-worth. Presentations were adapted for audience age and appropriateness with speakers traveling between all three NGPS schools in Valleyview for individual presentations:
Lee Thomas spoke to the student body about her struggles as a teen battling mental illness - the fear, the loneliness, the struggles and finally, after seeking help, the process of recovery. In sharing her personal journey, Lee hopes to bring awareness to the kinds of help that are available and to reduce the stigma around mental health issues so that more kids and adults will seek help. 
Sergeant Brian Trainor, a 27 year police veteran, shared his experiences with bullying in a way that was relevant to students, with a focus on how to prevent abuse and harassment. Brian spoke with students about their digital footprint, Apps to stay away from and the effects and consequences of bullying, online and otherwise.
Alvin Law, Hall of Fame Keynote, Author and Motivational Speaker, challenged students to see each other as leaders and to imagine what the world could be like if they positively influenced each other by proactively jumping in and making things happen.
In addition to the presenters, community support organizations such as Alberta Health, Family and Community Support Services (FCSS), Heart River Housing, MITAA Detox Centre, local psychologists and youth programs were invited to set up at the school creating an Information Fair where students learned about the different community organizations and professionals that exist in Valleyview who can help them in times of crisis and struggle. 
Hands-on stations were also set up as part of the day to give students a chance to explore different self-care options like aromatherapy, meditation and yoga.
Excellent opportunity for students to learn more about mental health issues, how they can support one another as friends, family and a school community, and the community supports that are available in Valleyview should students need them. 
Challenging the stigma of Mental Health with supports & solutions @ Hillside Jr/Sr High!