NGPS announces Edwin Parr nominee Marina Dehek
Posted on Mar 26, 2018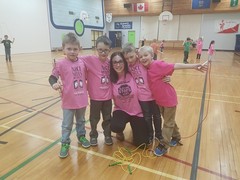 We are pleased to announce that the 2018 Northern Gateway Edwin Parr Award nominee for the division is Marina Dehek.
Marina teaches Grade 1 at Grasmere School in Alberta Beach. Marina is excellent at accommodating for the different needs of her students and is open to trying new strategies to support her students in achieving success. She is very aware of the learning and emotional needs of her students. Her classroom is a positive, safe environment where students are able to try new things, make mistakes, learn and grow. Marina's contributions are integral in bringing the school and the community together. She builds strong relationships and is well-respected by students as she treats them in kind.
Congratulations Marina!