Onoway students revive community underpass with original artwork!
Posted on Jun 11, 2018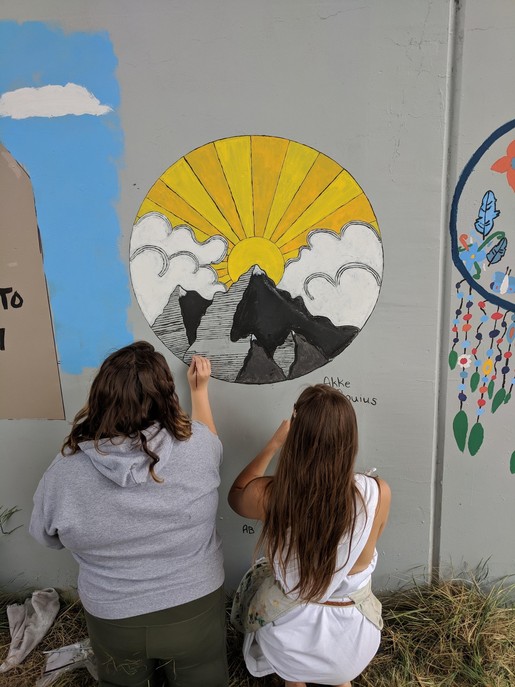 Unique learning experience brings town and art students together for community beautification.
An old, previously quiet underpass is receiving a lot more attention these days due to its prominence on the new entrance route into Onoway. Onoway Jr/Sr High School (OJSH) teacher, Carolyn Walker, is one of the many residents, commuters and visitors who travel into Onoway via the new route. One day, as she passed the messy and inappropriate graffiti covering the underpass on her way to work, she wondered if there might not be an opportunity for Onoway art students to help and in the process, learn and contribute. 
Student artwork now graces the Onoway underpass, one of the three main entrances into town! 
Under the guidance of Mrs. Kirwin, Mrs. Puhov, Mrs. Bouius and Mr. and Mrs. Walker, twenty-six senior high art students participated in the project which followed a theme of 'Personal Passions'. The project involved prepping the underpass concrete by painting over the existing graffiti with a solid grey colour which served as the backdrop for their personal work.
"The underpass revival required special approval of the project from the Ministry of Transportation. The Ministry does not normally approve private projects to paint underpasses but made an exception in this case due to the fact that it was a combined student, school and community project," commented coordinating teacher Carolyn Walker.
Partners / Innovation / Art
Traffic control was supplied by Lac Ste. Anne County by-law officers and the local RCMP. Ledcor's Highway Maintenance Division contributed appropriate signage. The Onoway Timber Mart supplied all of the paint at a discount and the Town of Onoway graciously picked up the tab for the paint. Everything the students completed was in accordance with Ministry of Transportation guidelines.
The almost month-long project culminated this past Friday, June 8, with a visit from Onoway Mayor Judy Tracy, MLA Oneil Carlier and Minister Carlier's press secretary Renato Gandia, who arrived at Onoway Jr/Sr High School to interview the students involved.
The beautification of the under pass is complete and looks amazing! Every student, teacher and community partner should feel proud of their contribution! #studentdriven #thearts #community #ngps10
Keep scrolling to see all of their artwork!
Onoway students revive community underpass with original artwork!