Together for Students! PSBAA advocates for one, inclusive education system.
Posted on Jan 30, 2019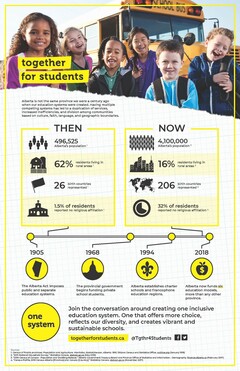 The Public School Boards' Association of Alberta (PSBAA) has launched a new community engagement initiative to talk about the future of education in Alberta, and how one, inclusive, diverse education system can meet the needs of Alberta students.
NGPS Trustee Gerry Steinke shared the PSBAA's campaign message, "Together for Students" at the January 15 meeting of the NGPS Board.
The PSBAA believes that funding multiple school systems - charter, private, Francophone - comes at an increased financial, social and educational cost to Albertans, and to students.
"Tomorrow's Alberta depends on how we educate our children today. Our province funds more educational systems and boards than any other province in Canada. These choices are now coming at an increasing cost to all of us. Services are duplicated and inefficient. Communities are becoming fragmented. Funds are diverted, meaning students end up with fewer learning opportunities instead of more. We need to start a public dialogue about the escalating costs— financial, social, and educational— resulting from our multiple education systems." - Together for Students website, www.togetherforstudents.ca
You can learn more about the PSBAA's campaign, and join the conversation via their website, Facebook and Twitter.