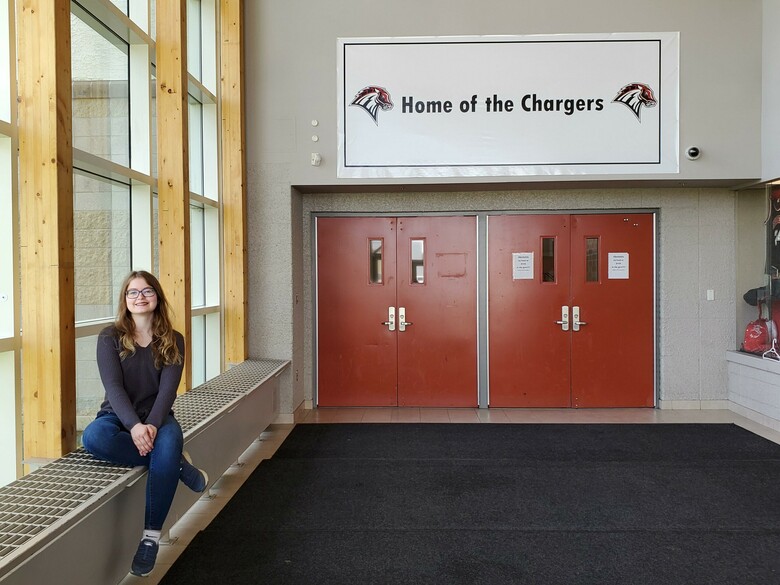 Hilltop Jr/Sr High School student Maddy Martell will represent her school community, Northern Gateway Public Schools, and the voice of rural high school students on the Education Minister's 2020-21 Youth Council! 
The Minister's Youth Council consists of 41 junior and senior high students with diverse interests, identities, backgrounds and perspectives from all regions of Alberta. Students on the council provide their perspectives on a number of education topics, serving a 10-month term that aligns with the school year. During the school year, the council attends 3 multi-day sessions. Read more about the council here.
Already an active community member, Maddy is looking forward to the new role and to learning more about politics and engagement through the experience:
"Everyone's voice is important. I like to share my opinions and to encourage others to share theirs. Many students might not feel comfortable sharing their views. I'm excited to have a voice in how we will be educated and to share the voice of others."
Maddy will begin her Grade 12 year at Hilltop Jr/Sr High School this fall where she is known for her positive contributions and participation both within and outside of the school community. She works part-time, volunteers with Whitecourt's Pumpjack Players and is a current member of Whitecourt's Youth Advisory Committee. She has met national and provincial political leaders and worked with students from across Canada through past experiences with Encounters with Canada, Forum for Young Canadians and the Whitecourt Rotary Club.
Hilltop Principal Brent Northcott is quick to praise the soon to be senior:
"Maddy is a very engaged student. She was our Student of the Year for high school last year. She is a very academic student, but is also involved in the school and her community in so many other ways with clubs and committees. Whatever happens at Hilltop High - Maddy's involved. We are excited to have her represent rural Alberta and Northern Gateway. She has good opinions and will do well at the Minister's table."
Maddy is one of 138 junior and senior high students across Alberta who applied to the Minister's Youth Council and one of 64 students interviewed by ministerial staff.
Congratulations on this prestigious appointment Maddy! We hope you keep sharing your voice, lending your hands, encouraging others and exploring every opportunity that Hilltop Jr/Sr High, your community and the greater global community have to offer!