Anne Martens accepts Principalship at Pat Hardy Primary School
Posted on Apr 30, 2018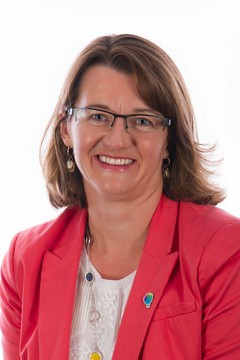 Northern Gateway Public Schools is pleased to announce that Ms. Anne Martens has accepted the position of Principal of Pat Hardy Primary School, effective August 2018.
"Anne is an effective leader and a natural mentor," shared Superintendent of Schools, Kevin Andrea. "Her high standards, strong interpersonal skills, commitment to early years language development and school-home collaboration, leadership experience, understanding of educational policies and governance, and passion for education will serve the students, staff and community of Pat Hardy Primary well."
Ms. Martens began her teaching career at Percy Baxter School in 2011. An innovative, growth-minded educator, she helped to develop the school's Learning through the Arts program - teaching Math, Science, Language Arts and Social Studies – in addition to leading the Grade 8 professional learning team.
In 2016, Ms. Martens joined the NGPS Learning Services team, furthering her professional growth and leadership development through her role in coordinating Indigenous student supports for Northern Gateway students. In this role, Ms. Martens was responsible for supporting educational service agreements and fostering collaborative relationships with Indigenous communities and educational partners.
Ms. Martens re-joined her former school community of Percy Baxter in the 2017 school year as Assistant Principal, an opportunity that she credits with allowing her to develop further professionally and to earn the trust and respect of staff, parents and students.
Ms. Martens holds a Bachelor of Education degree with Distinction from the University of Alberta and is currently pursuing her Master of Education in Leadership from City University of Seattle.
"I am truly honoured to join the incredible Pat Hardy team as their school Principal. I am excited by the opportunity to work collaboratively with staff and parents to ensure every Pat Hardy child has the best opportunities to thrive and succeed as learners in a safe and caring environment." – Anne Martens