Go back to listings
NGPS Board Chair and Vice-Chair elected at Organizational Meeting
Posted on: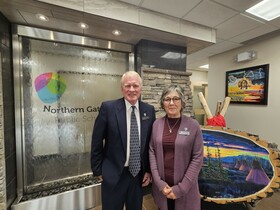 The Board of Trustees elected Valleyview trustee, Gerry Steinke to the position of Board Chair, and Mayerthorpe trustee, Diane Hagman to the position of Vice-Chair, at the September 12 Organizational Meeting.
NGPS Superintendent Bird congratulated Chair Steinke and Vice-Chair Hagman, sharing that "Trustees Steinke and Hagman are both experienced trustees whose passion for education, and programming that serves our students and our communities, will continue to serve the Board well."
Chair Steinke and Vice-Chair Hagman will serve as Chair and Vice-Chair for the 2023-24 school year.
Board leadership positions are elected, and Committee appointments are determined, annually at the Board's Organizational Meeting.