Celebrating our Edwin Parr nominee, Gabrielle Guderyan!
Posted on Mar 26, 2021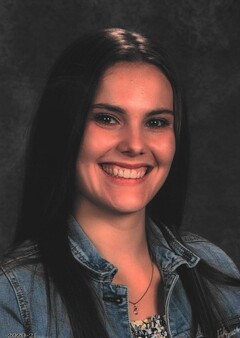 Congratulations to first year teacher, Ms. Guderyan who has been selected as NGPS' nominee for the Alberta School Boards Association (ASBA), Edwin Parr First Year Teacher Award!
Ms. Guderyan teaches Grade 8 Mathematics, Science and CTF options at Percy Baxter School in Whitecourt where she has spent her first year demonstrating an enthusiastic commitment to growth and excellence in her role as teacher, colleague and support for students outside school hours.
"Ms. Guderyan's contribution to the Percy Baxter school community over the course of her first year as an educator is exemplary," said NGPS Superintendent Kevin Andrea. "We are fortunate to have excellent first-year teachers like Ms. Guderyan supporting students."
In support of her nomination, Ms. Guderyan is described as a confident and reflective teacher with an exemplary work ethic who continually strives to provide students with meaningful, relevant and engaging learning opportunities.
Percy Baxter Principal, Mr. David Turcotte, shared, "We are so pleased for Gabrielle and proud of her accomplishments this year. As a collaborative and solution-focused teacher, Gabrielle consistently strives to meet the needs of every student and to contribute positively to our school community. She is highly respected by the staff in our school and is a natural leader among her peers."
"I look forward to expanding upon my skills and attributes to become the best teacher, colleague, and future leader that I can become. It has been my honour and privilege to learn alongside so many children, caregivers, and colleagues this year and I look forward to more years of continued growth."
 – Gabrielle Guderyan, Grade 8 teacher, Edwin Parr nominee
The Alberta School Boards' Association established the Edwin Parr Teacher Award to honour outstanding first year teachers in Alberta, in memory of Mr. Edwin Parr, a respected and loved teacher from the Athabasca area.