Gateway to the World: NGPS honours staff at 23rd annual Employee Recognition Evening
Posted on Oct 1, 2018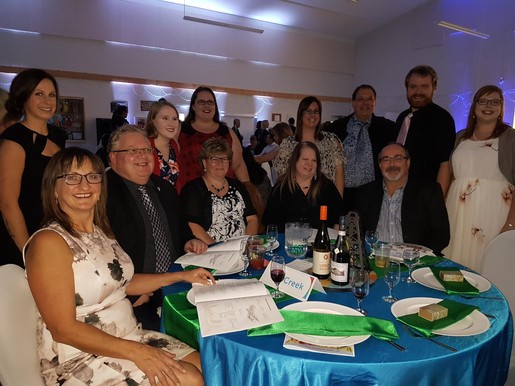 The Annual Employee Recognition Evening is a special event for us. Each year, NGPS employees from every school community in our Division gather together in Whitecourt to share a meal and to celebrate the people who make us great!
NGPS Deputy Superintendent Michelle Brennick shares, "An evening of much preparation yields an opportunity to recognize our staff for their influence on, guidance of and support for our students and each other. Chatter, laughter, storytelling, dining and honouring our colleagues' accomplishments created a festive mood of celebration and respect."
From their first ever service award of 5 years, on up to our 35 and 45 year employees, and our retirees who are embarking on a new adventure, we sincerely value and appreciate your commitment to Northern Gateway Public Schools and to the students we serve.
A theme is chosen each year for the event. This year's theme, 'Gateway to the World; come explore with us,' invited staff to think about our role in education, and as a Division, in opening up a world of experiences and opportunities for growth and lifelong learning for and among students and staff.
Gateway to the World: NGPS honours staff at 23rd annual Employee Recognition Evening