Leading the Way into the Future of Learning!
Posted on Nov 6, 2019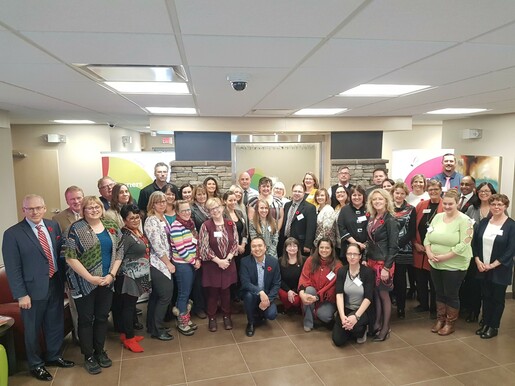 Enriching the NGPS Learning Landscape with Dr. Santiago Rincon-Gallardo
Parents, principals, trustees and division leaders gathered in Whitecourt yesterday with the unified purpose of enriching, deepening and liberating learning for NGPS students. The day included an amazing opportunity to work with educational change organizer, researcher and author, Dr. Santiago Rincon-Gallardo. Dr. Rincon-Gallardo is an education visionary with extensive experience leading and studying the inside-out transformation of teaching and learning in public schools and educational systems.
Leaders from all different areas of education - school councils, principals, the superintendent and trustees - discussed how we can continue to improve our learning environments and the learning process for students, to prepare them for and support their success in an ever-changing world.
"NGPS has been working hard over the past number of years to continue to engage students in their learning and to grow collectively in our vision and our practice," shared NGPS Superintendent Kevin Andrea. "We are a school division that is committed to growth and to a vision that includes success and support for every student, every day, in Northern Gateway classrooms."
Dr. Rincon-Gallardo led the group through a series of discussions designed to provoke thought and conversation about the concept of deeper learning and what we can do as teachers, system leaders, trustees and parents, to support deeper learning and, ultimately, student success.
Exploring the Division's work within NGPS' Quality Learning Environment (QLE) was another part of the day. The QLE is a collectively developed, division-wide foundation for reflecting on effective, research-based instructional practice in Northern Gateway classrooms, with a focus on Quality Pedagogy, a Culture of Wellness, Classroom Supports, School Supports and Intensive Supports. How the Collaborative Response Model works within schools, the learning and support of educator networks and peer teams and Mental Health and Wellness supports were also discussed from the different perspectives of all those at the table.
The best teachers learn alongside their students. The most powerful learning comes when the relationship of learner and teacher goes both ways. Teachers can engage with and learn alongside and from students in a positive and collaborative way.

Dr. Santiago Rincon-Gallardo
Dr. Rincon-Gallardo reflected on the day sharing that he, "has never been in a gathering where parents, trustees and system leaders came together to discuss what they can do, together, to create powerful learning opportunities for students. I am so impressed to see the depth of the investment of every person in this room and the strong sense of family and shared purpose. Northern Gateway Public Schools is ready to lead the way into the future of learning."