Ovintiv Sponsors Pre-Employment Training for Fox Creek Students
Posted on Feb 14, 2020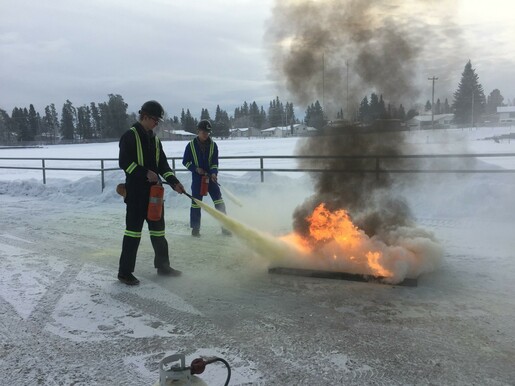 $20,000 to support student training and development
Northern Gateway Public Schools is pleased to partner with Ovintiv as a sponsor of pre-employment programs for Fox Creek students. In today's workforce, employers are looking for employees to have knowledge and skills that allow them to enter the workforce right out of high school.
Kevin Andrea, Superintendent of Northern Gateway Public Schools, shared that the "Division has recognized this need and implemented a variety of off-campus and dual credit programs to help meet labour market needs and support students who are looking to enter the workforce following graduation. As part of this strategy, we developed a comprehensive pre-employment program, but until now, were lacking the corporate sponsorship necessary to make this important training available to all students who wish to acquire these skills."
Many Fox Creek employers are looking for staff who have their First Aid certification, Industrial Safety Training and a valid Class 5 Drivers License. The partnership with Ovintiv will provide funding for Fox Creek students to acquire this training at no cost to them.
Fox Creek School Principal, Ian Baxter, thanked Ovintiv for their support:
"Our school has worked closely with Ovintiv and other local companies to help provide students with work place experiences and training to meet local demands. This partnership will provide the resources needed to grow our student participation in the local job market."
The safety training includes all requirements of local Oil and Gas and Forestry related companies, for Grade 11 and 12 students; H2S Alive, Transportation of Dangerous Goods, Confined Space, Fire Safety, Ground Disturbance, WHMIS (2015), Fall Prevention, and Flagging and Ladder Safety.
Certified trainers from the Canadian Red Cross and Heart and Stroke Alberta will provide the First Aid training and certification. Grade 8, 9 and 10 students will have an opportunity to take a course that prepares them to successfully complete their Learners Permit exam, in preparation for Drivers Training and working towards their Class 5 License.
Tyson Pylypiw, Manager, Road/Lease, Community & Indigenous Relations with Ovintiv commented:
"We are proud to partner with Northern Gateway Public Schools to help fund pre-employment training and skill development programs. Education is one of our core areas of focus. Supporting programs like workforce training helps us participate in the development of local talent and contribute to the long-term sustainability of the communities where we live and work."