Presenting our Edwin Parr Nominee, Krysta Webb
Posted on Apr 11, 2019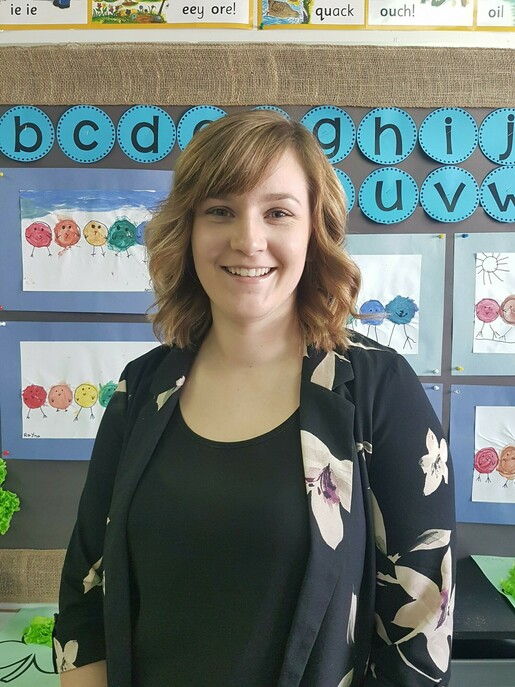 Division names Edwin Parr Nominee!
Northern Gateway Public Schools is pleased to announce that Ms. Krysta Webb has been selected as the Division's 2019 nominee to the Alberta School Boards' Association (ASBA) Zone 2/3 Edwin Parr Selection Committee. Ms. Webb teaches Grade 1 at Pat Hardy Primary School in Whitecourt.
"Ms. Webb is a responsive and dedicated first-year educator and a respected member of the Pat Hardy team," shared NGPS Superintendent Kevin Andrea. "Her creativity and commitment to a student-focused approach with her school and classroom communities is exemplary. We are incredibly fortunate to have excellent first-year teachers like Ms. Webb working with NGPS students."
Ms. Webb is recognized for her thoughtful and intentional planning, her positivity and her careful consideration of student engagement and personalized learning. Ms. Webb works hard to build strong relationships with her students and colleagues and her classroom is a safe and encouraging environment where students are able to try new things, make mistakes, learn and grow.
Pat Hardy Principal, Anne Martens commented, "Ms. Webb is adored by her students and their eagerness to respond to her direction and meet her expectations is evidence of the relationships and positive classroom culture she has established."
Ms. Webb graduated from Concordia University with a Bachelor of Arts in Drama and a Bachelor of Education.
Congratulations Krysta!
Runner-Up
We would also like to recognize our runner up nominee, Ms. Lindsay Wells from Harry Gray Elementary School in Valleyview. Ms. Wells is recognized for the strong connections she has made with students and for her welcoming and collaborative classroom community. Ms. Wells is a positive member of the school community and takes an active role in extracurricular and community activities.
Congratulations Lindsay!
Who was Edwin Parr?
Those who knew Edwin Parr describe him as a person intensely concerned with the education of children. So great was his interest that he sacrificed much of his own time to ensure the children in his area received an education equal to or better than that available to urban students.
Mr. Parr, who participated in selecting new teachers, stressed to the applicants that they must go beyond the duties normally expected of teachers. Edwin Parr's interest in first-year teachers lead to his school division instituting an "Annual Teacher Award." He encouraged the Alberta School Trustees' Association to consider a similar award at the provincial level but his dream was not realized in his time.
In searching for a way to perpetuate the memory of a man who served as the Alberta School Trustees' Association's president from 1956 to 1962 and to honour the profession he so deeply respected, the Association established the Edwin Parr Teacher Award.