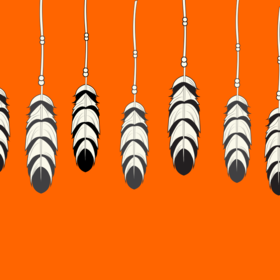 September 30, 2021 marks the first National Day for Truth and Reconciliation. 
The National Day for Truth and Reconciliation honours the lost children and survivors of residential schools, their families and communities. It is a time to listen to survivors, remember the children who didn't come home and recognize the profound impacts of residential schools on Indigenous families today.
Some of the learning and awareness activities NGPS students will participate in this week: 
Feather activities: early learners will talk in classes about how children may have felt when attending residential schools, and will then discuss how children should feel when they are at school. Students will decorate feathers with special messages and sentiments drawn from their discussion and display the feathers in the school.
Building knowledge and awareness through crafts, music, school-wide readings of Indigenous stories and art installations
Assemblies
KAIROS Blanket Exercise
Listening to Indigenous people share their stories via special guests and videos
Learning about and hearing Land Acknowledgements
Playing Indigenous games in Physical Education
School displays of Indigenous art, books and Legacy materials
Bannock making
Friendship/Heart Gardens
Wear orange on September 30
Orange Shirt Day is an Indigenous-led grassroots commemorative day that honours the children who survived Indian Residential Schools and remembers those who did not. This day relates to the experience of Phyllis Webstad, a Northern Secwpemc (Shuswap) from the Stswecem'c Xgat'tem First Nation, on her first day of school, where she arrived dressed in a new orange shirt, which was taken from her. It is now a symbol of the stripping away of culture, freedom and self-esteem experienced by Indigenous children over generations. (canada.ca)
Please join us this Thursday in wearing orange (your shirt, a pin, etc) to raise awareness, honour survivors and remember the children who died.
Please note: September 30 is a regular school day for NGPS students.