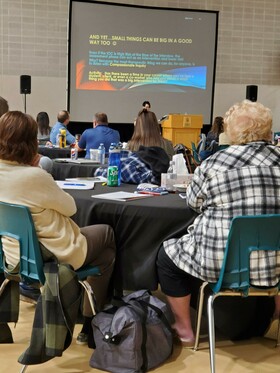 Working together on common training to keep our communities safe - digging into VTRA Level Two training 
Violence Threat Risk Assessment Training, or VTRA, is comprehensive skill-based training for professionals in school jurisdictions and other community systems like Health and the RCMP. The goal of VTRA is to develop, train and prepare collaborative multidisciplinary teams with expertise in early intervention, prevention and aftermath strategies for crises, trauma, violence and conflict.
Community support between and among schools and community partners is critical for the successful application of VTRA training. Thank you to our community partners from Living Waters Catholic School Division, RCMP, Children's Services, Victim's Services and other agencies throughout the Division who joined teachers and school support staff for Level Two of the training, and for your commitment to achieving a vision of threat reduction and school and community safety.
Together, we can be a strong and responsive network for our children and youth!