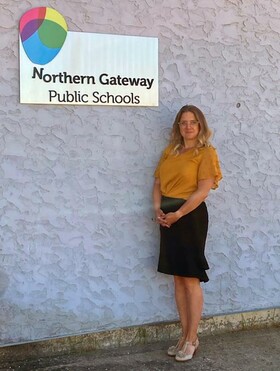 Northern Gateway Public Schools is pleased to welcome Ms. Kim Caron to the position of Principal at Oscar Adolphson Primary School in Valleyview, commencing August 2021.
Ms. Caron is an experienced educator and long standing resident of Valleyview, where she has been teaching junior and senior high at Hillside Jr/Sr High School since 2009. An engaged teacher and learner, Ms. Caron has honed her leadership skills within her classrooms, and within her school and professional communities and experiences, including, as a member of Hillside's Quality Learning Environment leadership team and the Division's Senior Math Cohort, as a teacher representative abroad for Hillside's international learning exchange in Finland with FINAL 2.0, and as a volunteer coach, fundraiser and chaperone for numerous clubs, teams and initiatives.
With a firm belief in active, lifelong learning, and the importance of collaboration and positive relationships in supporting student success, Ms. Caron is looking forward to the 2021-22 school year:
"I am excited to join the amazing staff at OAP! I look forward to working with the youngest learners in Valleyview and I am eager to bring my passion for quality education into this new leadership role. My own educational journey began with Northern Gateway Public Schools when I was an early learner at Pat Hardy School in Whitecourt. That journey brought me to Valleyview in 2009 as a teacher at Hillside Jr/Sr High School and I am thrilled to continue this journey as Principal at Oscar Adolphson!"
NGPS Superintendent Andrea shared, "Ms. Caron's demonstrated commitment to NGPS Quality Learning Environment, instructional excellence and student achievement in Valleyview, coupled with her understanding of the Valleyview school communities, will serve OAP students and parents well. We look forward to her leadership in the coming year."
A graduate of Hilltop Jr/Sr High School, Ms. Caron holds a Combined Bachelor of Education/Bachelor of Science degree from the University of Alberta, a Masters of Mathematics for Teachers from the University of Waterloo, and will complete a School Leadership Qualification Standard course from the University of Calgary, Werklund School of Education, this June.